ABSF News Top Three
March 07 2022
New Bill for growing biodiversity
Consultative committee focuses on indicators in Brisbane
ABSF Chair to speak at key events
Here's this eNews edition's Top Three stories from the ABSF
See the top three news items from the ABSF, including a new Bill for biodiversity, the latest ABSF Consultative Committee meeting and ABSF speaking opportunities at key events.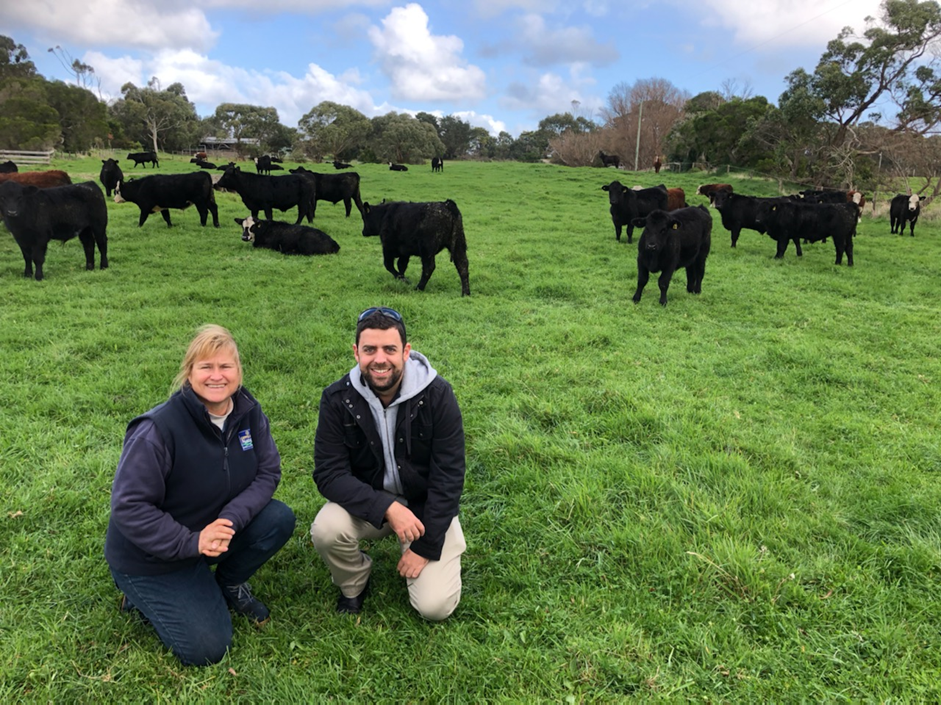 Jenny O'Sullivan and Jacob Betros on Jenny's farm in the Gippsland region of Victoria.
1. New Bill to reward producers for growing biodiversity
A NEW bill entered by the Australian Government in early February to create a legal framework for a national voluntary agriculture biodiversity stewardship market has been largely welcomed by industry stakeholders.
Minister for Agriculture and Northern Australia David Littleproud said the bill would allow farmers to use less productive agricultural land to improve biodiversity, while providing a robust legal framework to back it up.
"We're making sure there are clear definitions in place on what eligible projects are, through biodiversity protocols, which will enable farmers to be rewarded for their land stewardship," Minister Littleproud said.
"The Bill will create a biodiversity certificate, which will be tradeable. This will mean biodiversity outcomes can be purchased, transferred, claimed, or used.
"We'll establish a single public register for the market. This will enable tracking of certificates, provide evidence for claims made by buyers, and, over time, provide information to inform the market.
"We'll have an independent expert advisory committee, who will be there to provide expert advice on biodiversity protocols."
Australian Beef Sustainability Framework (ABSF) Sustainability Steering Group member and Victorian beef and sheep producer, Jenny O'Sullivan, said she was pleased to see steps being taken towards economic return being linked to investment in biodiversity.
"Beef producers are managing an enormous area of land across Australia and looking after biodiversity is critical to the long term sustainability of our environment and our industry," Mrs O'Sullivan said.
"Putting less productive land aside to support the biodiversity of plants and animals does require some investment in management, particularly in terms of pest and weed control, so it is good to see this may be a mechanism for some economic return for this work."
However, Mrs O'Sullivan also questioned if and how producers who had an existing track record of biodiversity protection, would participate in the proposed market.
"Many beef producers have been preserving and enhancing remnant vegetation for more than 30 years, often working in conjunction with groups like Landcare, by setting aside land for biodiversity protection," she said.
"This is a great incentive for people to go down this track, but will there also be a pathway for people who have already done an enormous amount of work in this space to participate as well?"
2. Industry sustainability message to be shared up upcoming events
ABSF Chair, Mark Davie, will speak at the upcoming Australian Land Conservation Alliance PLC2022 on the importance of the Framework and the key role beef producers plan in protecting and improving environmental health.
Held virtually on 8-10 March, PLC2022 is ALCA's sixth annual private land conservation conference, designed to each year support and progress sector and stakeholder knowledge in the focus areas of land and water, people and place, economics and finance, first nations, future leaders and policy pathways. Mark will share his experience of producing sustainable food, how industry is investing in environmental performance and how investors are increasingly backing products for purpose.
On 21 April, Mark will also speak at the Northern Intercollegiate Meat Judging Conference in Rockhampton. The ICMJ aims to attract graduates and young professionals into the red meat sector, with its Northern Conference designed specifically to engage industry by offering workshops and industry seminars, interactive classes and a meat judging competition, as well as a careers expo.
Mr Davies said having a presence at events like these was an impactful way to directly engage a diversity of key stakeholders and to clearly communicate the work being undertaken across the beef industry to continually grow sustainability credentials.
"These two events give the ABSF a direct point of contact with both conservation groups and the next generation of beef professionals," Mr Davies said.
"One is important to engage to ensure accurate information about our industry is shared, while the other is part of the wave of next generation leaders who will drive the prosperity of the sector – an important driver of which will be sustainability."
3. Consultative Committee meets in Brisbane
MORE than 80 members of the ABSF Consultative Committee met in Brisbane in February for the first of its biannual meetings for 2022.
The Consultative Committee serves as a reference group for the ABSF, and consulting with members has provided valuable insight and perspective into the activities and expectations of non-industry stakeholders. The group includes Australian and overseas retailers, banks, investors, environment and welfare non-government organisations, agribusiness, researchers, government, policy organisations and industry bodies.
The Consultative Committee meets twice a year to:
Share information about emerging trends, issues and opportunities for sustainable food production
Identify emerging issues and opportunities for industry
Confirm the priority areas of sustainable beef production for reporting progress to stakeholders and the wider community
Enable the SSG (and therefore, industry) to better anticipate emerging focus areas for customers and other stakeholders
Provide the SSG with more information to better implement the Framework.
This meeting was the first to be held face-to-face in 12 months, and also included 35 members who attended virtually.
ABSF Manager, Jacob Betros, said the meeting gave the Committee an opportunity to refine the indicators which form the basis of the Framework's reporting and serve as a vital measure of industry's sustainability performance.
"After intensive research into understanding what data exists within the industry, the ABSF is prepared to report modern metrics to demonstrate industry's continually improvement," Jacob said.
"The committee also shared some of their recent endeavours in sustainability, and it was unsurprising to see that carbon, animal welfare, and vegetation management continues to be front of mind. A collaborative effort in engagement and transparency is key to moving our industry forward."
More information
Contact:
Jacob Betros
Resources: