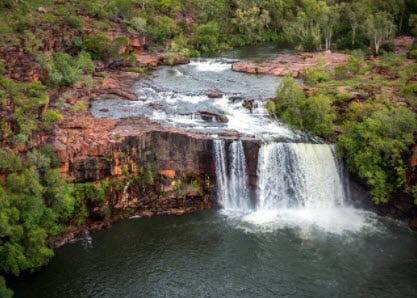 Theme: Environmental stewardship
Priority: Balance of tree and grass cover
Business: Bullo River Station
Location: East Kimberley
"The cattle operation is only viable with healthy land."
KEY POINTS
Along with cattle, Julian and Alexandra Burt's Bullo River property supports a stunning variety of local flora and fauna
The Burts partnered with the Australian Wildlife Conservancy to assist with managing their property's natural resources
Together they have identified a special management zone as the key areas of habitat and degraded land to be rehabilitated and protected over the long term
Cattle and conservation are not mutually exclusive – far from it, according to Julian Burt, owner of Bullo River Station in the East Kimberley, and the two must work hand in hand.
Julian and his wife Alexandra took over the half-million acre property in 2017 and now run a 4000 strong Brahman-cross herd. Together with the cattle, the property supports a stunning variety of local fauna including wallabies, dingoes, wild buffalo, native and migratory birds, fish and crocodiles.
"When we first took over the station there was a lot to do," said Julian.
"There were large areas of the property where weeds had become a real problem, choking the native habitat and reducing grazing areas."
"There were also a lot of clean skin cattle in the back country and so we first had to understand exactly what we were dealing with. We had surveys done of weeds and pests, and worked on several major musters to bring in the feral cattle and reduce their numbers."
To tackle the daunting task, the Burts entered into a partnership with the Australian Wildlife Conservancy (AWC) to assist with managing Bullo River's natural resources. AWC will deliver a range of land management programs on the property under a ten-year, periodically-reviewed contract. Programs will cover fire, weeds, feral animals and wildlife.
"We had been supporters of AWC for many years before we purchased Bullo River Station. We were always impressed with their pragmatic, partnership approach and believed they would be the right fit to not only rehabilitate and protect the native flora and fauna, but also to understand and value the cattle station operation," said Julian.
Together they have identified a special management zone as the key areas of habitat and degraded land to be rehabilitated and protected over the long term.
"This does not mean that we won't be running cattle in those areas," said Julian.
"High-risk and high-value areas may be fenced off over time and some areas already have been. As the environmental surveys continue to provide us with a better understanding of what we have on the site, decisions will be made about how to best manage those areas."
The Burts take a holistic approach to farming, embracing sustainable practice across the board.
"In addition to destocking, we have made significant investments in additional watering points and fencing which better control the movement of cattle whilst grazing, and hence reduce the overall impact on the environment.
"We also continue to review the latest research on herd genetics and nutrition to identify characteristics that do well on our land."
Categories: Environmental stewardship