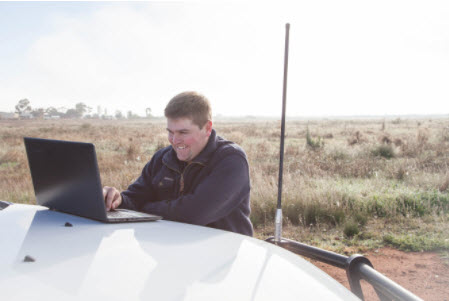 Theme: Economic resilience
Priority: Profitability across the value chain
Organisations: NSW Department of Primary Industries, NSW Farmers Association
Location: New South Wales
"It helped me focus my goals in the beef industry of increasing my herd and farm. My goals for buying a larger farm seems more attainable than I previously thought"
KEY POINTS
Four-year program provides professional development, coaching, workshops, scholarships and mentoring to young farmers
Program ensures young farmers are business ready and able to engage with financial lenders on an equal playing field
$6m has been invested into the program
A NSW Government-funded program is enhancing the business skills of the state's young primary producers.
The NSW Department of Primary Industries (NSW DPI) and the NSW Farmers Association jointly developed the Young Farmer Business Program, which was launched in mid-2017.
The four-year program will provide professional development, coaching, workshops, scholarships and mentoring to more than 8,000 young farmers and fishers.
"The objective of the program is to ensure our young farmers are business ready, financially savvy and, in turn, able to engage with financial lenders on a more equal playing field," said Niall Blair, Minister for Primary Industries, at the program's launch.
More specifically, the Young Farmer Business Program aims to:
Provide knowledge and skills to improve social and business resilience, manage risk, execute effective plans and make decisions that ensure viability of agricultural and fishing businesses
Provide access to new business ideas, tools and techniques
Support access to a range of products and services that engage with a wide diversity of skills, knowledge and experience within the primary industries business sector
Connect young farmers and fishers with opportunities that enable them to establish and/or expand their business.
Surveys of NSW farmers aged 18 to 35 years old have shaped the program to ensure it is reaching young farmers and helping them develop the skills they need to succeed in business.
For example, the Young Farmer Business Program has a strong focus on social media and how these tools can be used to drive engagement and build supportive networks.
Program participant Julie Monroe, of Coolah, said she enjoyed the bank ready workshop. "It helped me focus my goals in the beef industry of increasing my herd and farm. My goals for buying a larger farm seem more attainable than I previously thought, and I learnt valuable tips about how to approach the banks for help funding my agricultural goals," said the young beef producer and agronomist.
The NSW Government has invested $6m in the program.
Categories: Economic resilience