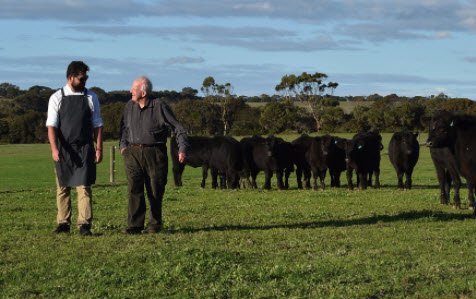 Theme: Environmental stewardship
Priority: Manage climate change risk
Producer: Bob and Anne Davie
Location: Phillip Island, Victoria
"Carbon sequestration in soil is the best way to remove CO2 and grow crops… We hope in the future producers can receive a premium for carbon neutral beef"
KEY POINTS
Bob and Anne Davie's farm is carbon positive, and takes the carbon equivalent of 2,144 cars off the road a year
Strategies include reducing emissions through genetic selection and absorbing atmospheric carbon by planting deep-rooted pastures
Bob hopes that future producers can receive a premium for carbon neutral beef
Victorian beef producers Bob and Anne Davie have added 'carbon neutral' to their list of environmental credentials.
Their diverse enterprise on Gippsland's Phillip Island is home to beef, honey, agri-tourism, free-range eggs and, now, carbon farming.
In 2009 they began reducing greenhouse gases emissions and carbon accounting and in July 2014 Bimbadeen became carbon positive – a status Bob believes can be achieved on any farm.
"We are just trying to do our little bit, it gives us a good feeling that we are trying to help the planet," Bob said.
His strategies include reducing carbon emissions and planting deep-rooted pastures and crops to absorb carbon from the atmosphere and store it in the soil.
The Davies turn off Angus steers and heifers at 250-300kg carcase weight by 16-18 months of age. They achieve this by selecting genetics for carcase quality, high growth rates and moderate frame, and maintaining nutritious feed.
"This allows us to turn cattle off quicker, saving months of methane emissions," Bob said. This year, they are trialling plant species that sequester the most carbon while also providing the nutrients required to improve soil health and plant production.
Bob said the formula was simple: "Carbon sequestration in soil is the best way to remove CO2 and grow crops – every 2.7t of total organic carbon (TOC) sequestered into the soil as a result of photosynthesis removes 10t of CO2 from the atmosphere."
The Davies have hosted farm health research with RMIT University for several years, which has provided the soil test data key to establishing baseline carbon levels.
The first soil tests established a baseline of 67.72t TOC/ha – no carbon below this baseline is allowed to be traded or offset. Offsets such as greenhouse gas emissions are removed from the carbon inventory – Bimbadeen's audited emissions for 2017 were 578.05t CO2e.
Bimbadeen's most recent carbon test was 100.47t TOC/ha, with a total carbon sequestration of 12,861.82t TOC. This is the equivalent of taking 2,144 cars off the road a year.
Gippsland Natural, the brand under which beef from Bimbadeen is sold, is organising a program to help producers with carbon farming. Bob sees this as a crucial step towards making the beef industry carbon positive.
"We hope in the future producers can receive a premium for carbon neutral beef," Bob said.
Categories: Environmental stewardship