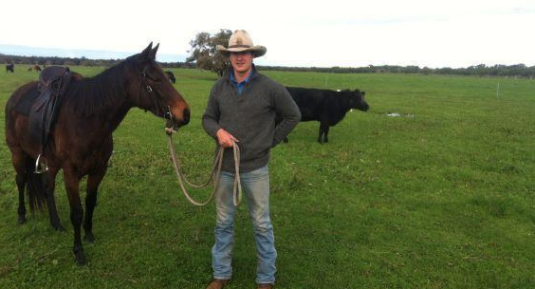 Theme: Environmental stewardship
Priority: Balance of tree and grass cover
Producer: Tim Prosser
Location: Scott River, WA
"Policy and expectations have changed now."
KEY POINTS
Lower stocking rate beneficial for land and pastures
Cattle naturally more resistant to parasites after grazing in bush
Few Australians are more aware of the importance of environmental stewardship than the country's primary producers, exposed as they are to the ever-present risks of climate variability.
It's little wonder, then, that farming not just for the present-day but very much for the future, too, is front-of-mind for Tim Prosser.
Tim and his father, Les, have a breeding herd of about 400 cows at Scott River in the southwestern tip of Western Australia.
"If the calves are big enough they go directly to market but if they're still a bit underweight we sell them to other farmers (to grow on)," Tim says. "Either way, they're off the property by the time they're about 10 months old."
Moving these weaner cattle through quickly enables the Prossers to keep their stocking rate down. "This is better for our land and our pastures," Tim says.
"My dad and I produce beef on 800 hectares on a property that Dad and my grandfather bought under the government's Conditional Purchase Scheme in 1968," Tim says.
"The land was all bush when they bought it. It was a condition of the purchase that they clear it and develop it as farmland."
Fortuitously, that proscribed heavy clearing was never completed – something for which Tim, with his 21st-century appreciation of natural diversity, is thankful.
"Policy and expectations have changed now," he says. "The half of the farm that is still bush will remain that way."
Environmental stewardship is one of the four core pillars of the Australian Beef Sustainability Framework. Under the framework, beef producers are called on to prioritise improving land management practices, mitigate and manage climate change, and minimise waste.
In the Prossers' case, this encompasses everything from reserving natural bushland as a biodiverse shelterbelt to working their cattle quietly with horses rather than motorbikes, and extends to sharing their experiences as an example to other landholders in the district.
"The way I look at it, on a farm you can't just look at tomorrow. You need to think of the future, whatever you're doing – be it keeping cows for future breeding or putting in fences."
Categories: Environmental stewardship