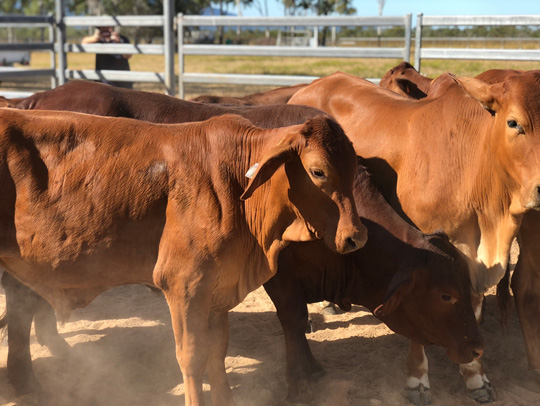 Themes: Animal welfare and economic resilience
Priorities: Competent livestock handling, maintain healthy livestock, profitability across value chain, and feedlot and processor productivity and cost of production
Tool: Ceres Tag
Location: National
"The Ceres Tag creates both ultimate provenance and traceability for futures trading and a 'passport' for the animal and its final products to consumers."
KEY POINTS:
The Ceres Tag tracks livestock movements in real-time and reports this information to producers via a satellite connection
Data is also analysed automatically to reveal anomalies in animal behaviour that indicate conditions such as welfare issues or illness
The device aspires to be a multifunctional information system compliant with the standard National Livestock Identification System
Knowing not only where cattle are but also what they're doing 24/7/365 is poised to become the new norm of beef production not just at home but internationally thanks to an all-Australian invention dubbed "the livestock equivalent of the Fitbit tracker".
The Ceres Tag – the result of a collaboration between a start-up agtech entity of the same name, CSIRO, Meat & Livestock Australia, James Cook University and the Queensland Government – looks and wears like a standard National Livestock Identification System (NLIS) eartag but offers an added layer of protection by enabling producers to monitor their cattle's physical status remotely through existing third-party software.
Data fed directly from the animal via a satellite to a secure central database link shows not only the exact GPS location of individual animals between four and six times a day but also whether they're behaving as expected. This analysis can pinpoint that a beast is either behaving normally or that its welfare is at risk, allowing workers to step in immediately to give assistance and/or treatment if needed.
Prompt intervention can alleviate suffering by an injured or unwell animal and the flow-on distress this causes those caring for it, and prevent any associated financial loss by the farm business. Additionally, in the event of an illness resulting from a biosecurity breach, the earliest possible response is crucial to containing any pest or disease outbreak.
"The value-creation opportunities to the red meat industry are multi-layered," Ceres Tag company chief executive officer David Smith said.
"The Ceres Tag creates both ultimate provenance and traceability for futures trading and a 'passport' for the animal and its final products to consumers. It provides information for finance, insurance, carbon credit proofing, regulatory compliance and asset management.
"At the same time it gives producers practical knowledge of where animals are located and in what numbers, and what condition they're in.
"The tag not only saves money but will help generate new income while doing so in a more sustainable framework."
Bluetooth- and RFID-enabled, the Ceres Tag has the potential to be fully NLIS-compliant as it stores all of the required details, meaning producers need not double up by applying both tags.
David said the tag's retention rate was high and as it harvested solar energy it did not require battery changes or recharging at any point in the animal's life.
The Ceres Tag is also an effective defence against one of the mounting challenges of beef production in the 21st century: theft. Owners can detect any movement of animals beyond a predetermined range and act accordingly.
"We've made considerable progress with the Ceres Tag's rollout already and are now gearing up for a trial on 500 animals across multiple sites in the north and the south," David said.
This technology – designed in Australia and set to be released worldwide before the end of 2020 – truly is elevating whole-of-lifetime visibility to a previously unimagined level.
Categories: Animal welfare