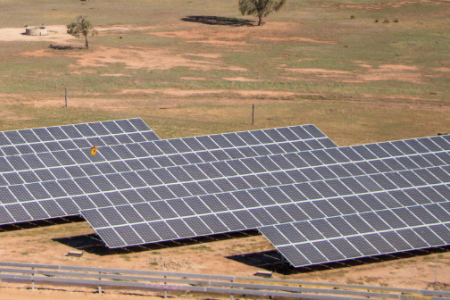 Theme: Environmental stewardship
Priority: Manage climate change risk
Feedlot: Teys Condamine
Location: Darling Downs, QLD
"The system has been offsetting 30-50% of grid electricity, depending on the weather conditions and solar hours."
KEY POINTS
The Teys Condamine solar plant now provides up to 50% of the feedlot's electricity needs
Sustainability is becoming a key factor in red meat business
Teys Condamine plans to be 30% renewable by 2023
Weather permitting, major commercial feedlot, Teys Condamine, is on track to reduce their scope 2 electricity emissions by 30 to 50% per year. One of three beef feedlots operated by Teys Australia, the Condamine facility on Queensland's Darling Downs has been home to 1,034 solar panels since March this year.
An opportunity arose in 2015 for Teys Condamine to participate in the Energy Savers Program, a partnership between Ergon Energy and Queensland Farmers Federation (QFF), funded by the Queensland Government. The program aims to provide agribusinesses with the information and tools that will enable them to commit to more efficient practices and technologies.
A co-funded energy audit of Teys Condamine by specialist energy and carbon management consultancy, Energetics, resulted in a recommendation to install 100kW of solar. The feedlot went two steps further, and after analysing the site's electrical load profile against its solar generation, decided to install 300kW.
"Construction of the solar farm was quite straightforward, compared to typical projects implemented by the Teys Asset Management Team" Group Manager Resource Efficiency, Carl Duncan said.
"The renewable energy industry has focussed on improving construction methods and reducing costs. It was mostly a matter of installing roof and ground mount racking systems, mounting the solar panels and connecting the inverters.
"We have open, flat areas close to the plant's main switchboard where we could connect to the grid and mount the inverter room, so that worked in our favour."
The information gained from the audit revealed that areas of high energy consumption were pumps, mill motors, steam, compressed air, process heat and lighting.
The solar plant now provides up to 50% of Teys Condamine's electricity needs.
The feedlot is already seeing benefits in the form of lowered electricity costs, reduced peak demand, reduced GHG emissions and more stable grid performance through the combination of grid and behind the meter renewable energy.
"The results so far have been very pleasing," Carl said.
"The system has been offsetting 30-50% of grid electricity, depending on the weather conditions and solar hours."
Teys Condamine plans to continue its investment in renewable energy for the foreseeable future. Implementation of solar power was one of 13 recommendations supplied by Energetics, six of which Teys Condamine have already followed.
"We have plans to be 30% renewable by 2023," Carl said.
"This is part of a much broader group strategy, which we will announce more on soon, but we have several driving factors: reducing greenhouse gas emissions, financial benefits, improving our sustainability efforts, lean manufacturing, environmental stewardship and supporting the red meat industry to become carbon neutral by 2030."
As with any large project, there were challenges to overcome during the planning and implementation stages. Carl highlighted that a lot of time was spent on evaluating the right solution for the feedlot, and there was a large wait between commissioning and registering the plant with the clean energy regulator so that the feedlot could generate renewable energy certificates. Other challenges included sizing and tuning the inverter strings to work in synergy with the site load and grid.
However, Carl believes the benefits outweigh the challenges.
"Sustainability has to be a key part of business from now on," he said.
"Farmers have adopted sustainable practices as their farms are passed from generation to generation and as an industry leader, we're working really hard to make sure the red meat processing industry moves in the same direction and is continuously more sustainable."
Categories: Environmental stewardship