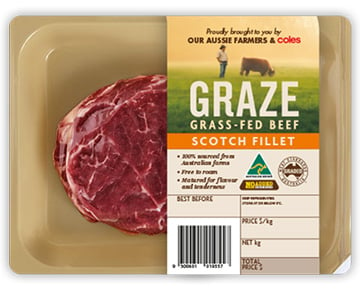 Theme: Environmental stewardship
Priority: Minimising waste
Business: Plantic Technologies
Location: Melbourne, VIC
KEY POINTS
Plantic Technologies uses recycled PET plastic to package meat and poultry products for supermarkets
Plantic Technologies was awarded the trophy for Sustainable and Ethical Excellence at the Coles Supplier Awards
Plantic Technologies is a Melbourne-based packaging manufacturer that is using innovative recycling technology to transform how commercial meat is packaged for supermarket shelves. Plantic Technologies has worked with Coles to package the supermarket giant's fresh meat range in recyclable and renewable materials, primarily drawing on a combination of polyethylene terephthalate (PET) and polyethylene (PE), as well as some plant-based substances. The company's unique packaging solution can also extend fresh meat shelf live by up to 40%.
Plantic Technologies' bioplastic packaging products have received a string of global accolades; recently, the company was recognised with a trophy for Sustainable and Ethical Excellence at the 2018 Coles Supplier Awards for its innovation in this field. In July this year, Coles adopted Plantic Technologies packaging across its entire fresh meat range. Coles also pledged to make its entire suite of home-brand packaging recyclable by 2020.
On average, Australians use 130kg of various plastic packaging each year – only 14% of which can be recycled. Consumers acquire much of that plastic packaging from shopping with major supermarket chains.
Plantic Technologies' materials represent a long-term, biodegradable approach to Australia's plastic problem, and its headway in the innovative bioplastics space aligns with the Australian Beef Sustainability Framework's commitment to environmental stewardship and waste reduction across the whole beef production process.
Diverting waste from landfill at all levels of the beef value chain is a Framework priority area. The beef industry is taking action to reduce waste through the value chain, which will have positive impacts down to consumers. The Framework takes a holistic approach to assessing opportunities for waste reduction in Australia's beef industry, to fortify sustainability prospects in the long term.
Plantic Technologies General Manager Business Development and Marketing Warwick Armstrong said Plantic uses PET and plant-based high-barrier materials, which are extrusion coated in Melbourne.
"Plantic uses a combination of plant-based and recycled materials to create its meat packaging. This type of packaging is unique when compared to commonly used oil-based packaging. From independent life cycle assessment studies done, the material is proven to give substantial environmental benefits through a reduction in CO2 emissions. Oil-based packaging is not an infinite resource, and that type of packaging is using a valuable resource that will run out," Warwick said.
"The function of the material allows the product being packed to be fresher for longer. By using recycled PET, we are not adding to the mountain of plastic waste building up in our oceans and landfill and using a plant-based barrier allows the packaging to be recycled and has greater benefits for our planet in reducing C02 emissions. We have created a true circular economy where we can find a use for waste plastic and grow the plant for the barrier, then the whole package can go through curbside recycling to start the process over again."
Plantic is taking its mission global. When it was purchased by Japanese specialty resins company Kuraray, the company gained access to international customers vying for more sustainable packaging options.
"Through Kuraray we are able to position ourselves globally for customers who are looking for a sustainable solution to packaging. As governments and leading brand owners look for a solution to global consumer concerns around packaging we will be ready to meet these demands," Warwick said.
Categories: Environmental stewardship