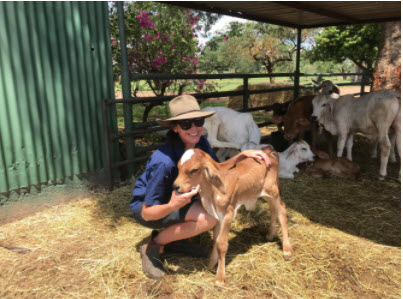 Theme: Enhance animal wellbeing
Priority: Animal husbandry techniques
Researcher: Dominique Van Der Saag
Location: Sydney, NSW
KEY POINTS:
Dominique van der Saag is a University of Sydney doctoral research associate exploring innovative pain relief treatment for cattle following surgical husbandry procedures
Dominique is leading research into medicated molasses lick blocks, which allow cattle to administer their own pain relief
Dominique is one of three winners of the Care4Cattle grant, which she will use to advance her research into novel, self-administered pain relief techniques
Dominique van der Saag is a University of Sydney academic with expertise in cattle welfare and pain relief. She recently received a Care4Cattle grant for her research into potential ways in which calves can self-administer pain relief after undergoing standard husbandry procedures, including dehorning and castrating.
Dominique holds a bachelor's degree in animal and veterinary bioscience from the University of Sydney as well as a PhD, which investigated practical anesthesia and analgesia for dehorning and castration. She is currently employed as a doctoral research associate at the University of Sydney, where she conducts research on animal welfare in the red meat industry – specifically, sensitive and appropriate pain relief.
Dominique came up with the simple and effective idea to use self-medicating licking blocks – of molasses, for example – to deliver pain relief to cattle after husbandry procedures with minimal handling for long-lasting pain relief.
"There's a potential practical method to provide extended pain relief as well as giving nutritional supplementation to cattle following surgical husbandry procedures, and it's also applicable to other conditions," Dominique said.
"At the moment, other pain relief options currently available to producers are not long-lasting and therefore they don't provide analgesia to livestock for a sufficient period of time to address the lasting pain, which can be present for several days or even weeks," explained Dominique.
Husbandry practices can cause cattle pain, inflammation and distress. The need to manually administer pain relief can amplify their discomfort, especially when the animal needs to be medicated for an extended period. The Australian Beef Sustainability Framework aims to uphold humane, non-invasive husbandry practices with optimal outcomes for animal welfare. Given that anesthetic for husbandry practices only became commercially available in 2016, the Framework seeks to promote pain relief options to producers who still haven't taken them up.
Dominique's novel lick block pain relief idea avoids the need to re-handle the sensitive animals, aligning with the Framework's pursuit of practicable and appropriate pain relief administration.
"A nonsteroidal anti-inflammatory drug is included in the molasses lick blocks in a sufficient concentration to give an effective dose based on known or estimated daily consumption of the lick block by the cattle. So, the idea is that the cattle will consume an effective dose of analgesia each day for the period of time that pain is present.
"The development of these self-administered analgesics provides producers with an additional tool, allowing them to administer analgesics before and following husbandry procedures for extended durations with minimal physical input, reducing stress to livestock," Dominique said.
Dominique's innovative pain relief technique also delivers important nutrients to cattle at a crucial point in their development. Dominique was recently recognised with a Care4Cattle grant for her contribution to this exciting area of research with the University of Sydney.
"As an early-career researcher, I'm encouraged by my receipt of the Care for Cattle grant award and I'm looking forward to contributing to shared goals and improving cattle wellbeing," Dominique said. "Our project team is enthused by the opportunity to investigate an innovative concept that has the potential to significantly improve animal wellbeing in a practical sense and therefore benefit both cattle and producers."
Dominique plans to use the grant to investigate three key areas of interest: the palatability of medicated molasses lick blocks for cattle; the pharmacogenetics associated with meloxicam – the nonsteroidal anti-inflammatory drug that Dominique's team is set to focus on – to determine appropriate concentration levels; and the efficacy of medicated lick blocks during and following surgical husbandry practices.
"The success of the medicated molasses lick blocks will demonstrate the feasibility of further improving current practices," Dominique said.
"The goal is to provide gold-standard pain relief through routine husbandry procedures is of great benefit to cattle and cattle producers. The development of these practices can guarantee optimal farm animal welfare, which is likely to result in better-quality products and consumer satisfaction."
Categories: Animal welfare