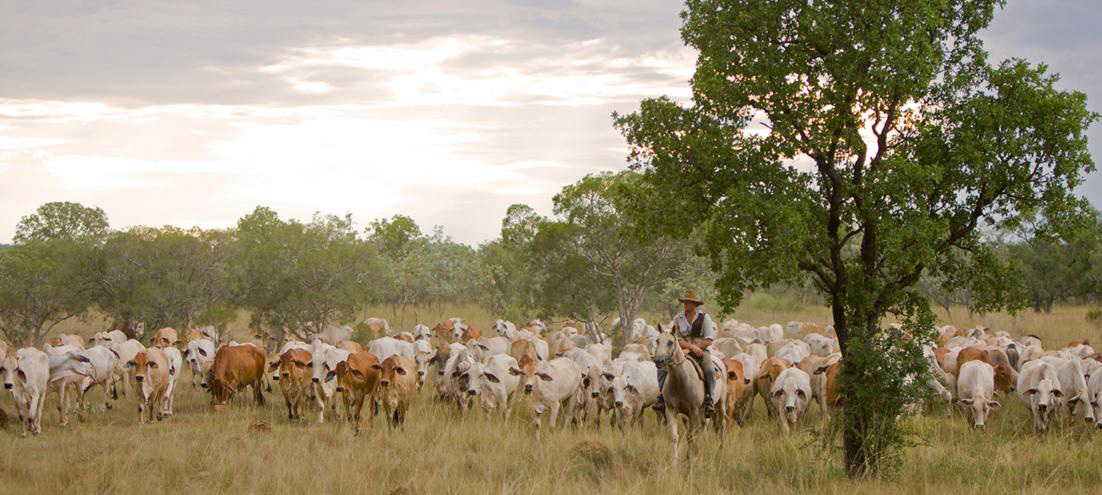 Theme: Animal welfare
Priority: Animal husbandry techniques
Business: Consolidated Pastoral Company (CPC)
Location: northern and central Queensland, the Northern Territory, north-eastern Western Australia and Sumatra in Indonesia
"Animal welfare's really important to Consolidated Pastoral Company – it sits parallel with human welfare."
KEY POINTS:
Keeping its cattle healthy and pain-free is a moral, ethical and business priority for CPC
CPC workers apply the topical veterinary treatment Tri-Solfen to deliver immediate pain relief, control bleeding and prevent infection during and after surgical procedures
Productivity and profitability are enhanced when the company's livestock are healthy and happy
Safeguarding the welfare of hundreds of thousands of beef cattle in its care is a moral, ethical and business imperative for Consolidated Pastoral Company (CPC).
Majority-foreign-owned but Australian-managed, CPC currently operates a network of nine stations occupying 3.2 million hectares, as well as feedlots.
"We are currently running 300,000 head at any one time in Australia and Indonesia," CPC chief executive officer Troy Setter said.
"Our breeding herd produces between 80,000 and 90,000 calves a year and we expect that to push up to 100,000 head over the next couple of years.
"Part of that's through increased productivity, genetics and environment but part is also due to using the tools that are available to us to boost the performance and survivability of our animals."
With this in mind CPC uses a range of treatments for pain relief and sanitising open wounds caused by accidents or resulting from necessary surgical practices such as castration and horn cauterisation, or disbudding.
Described as a "veterinarian-prescribed, farmer-applied" product, Tri-Solfen is manufactured by pain mitigation specialist Medical Ethics.
It is used as an adhesive barrier to numb a targeted body area, minimise blood loss and prevent infection.
"Animal welfare's really important to CPC – it sits parallel with human welfare," Troy said.
"It's is something we do every day and talk about regularly. It's really in our DNA."
Troy said keeping CPC's herd fit and contented was not only "the right thing for us to do" but also benefited the company financially: "If our cattle are calm and healthy, they perform better and put on extra weight. For us, animal welfare's just so important morally and ethically and also for our bottom line."
While disbudding is being phased out over time, in the interim it remains an essential step in protecting both cattle and workers from injuries inflicted by horns.
"CPC continues to breed [polled] cattle but that's a good 20-year-plus project so in the meantime we're still dehorning," Troy said.
"We're now applying Tri-Solfen to those animals as pain relief that works straight away."
Tri-Solfen is also being used successfully as a topical anaesthetic and antiseptic solution during and after the castration of bull calves destined for meat production.
For CPC and its cattle, the use of Tri-Solfen is a clear win–win.