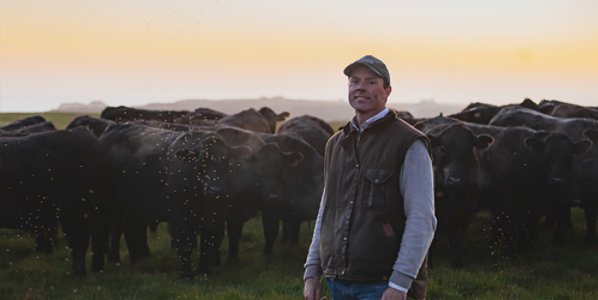 Themes: Animal welfare; economic resilience
Priorities: Competent livestock handling;
Producers: Richard Nesseler
Location: Port Campbell, Victoria
KEY POINTS
Low-stress handling helps Richard Nesseler produce the best eating quality beef, as measured by compliance to Meat Standards Australia (MSA).
Abattoirs provide financial incentives to meet compliance,
Richard buys 9-12-month-old Angus steers from trusted breeders and finishes them on grass.
He supplies cattle to JBS under the Farm Assurance Program.
For Victorian beef producer, Richard Nesseler, the key to producing the best eating quality beef lies in the low-stress handing of his cattle on his farms at Port Campbell.
But handling is just one of the factors Richard considers in the commitment to the Meat Standards Australia (MSA) program, introduced to his business three years ago when he started supplying to JBS under the Farm Assurance Program.
The second-generation producer finishes grass-fed cattle and is a helicopter pilot along the Great Ocean Road. The 100 hectare beef operation is also an extension of his family's sheep farm in Port Campbell.
It's a passion for Richard who admits he enjoys spending time in the paddock, looking at the cattle and moving them around the farm gently.
"Low-stress stock handing is important to me. I'm generally the only one who works the cattle, quietly by myself, without dogs or motorbikes," Richard said.
"The stock are very used to my presence so getting them into the timber yards quietly isn't a hassle.
"And keeping the herd together as a consignment lot at least a month before they're sent to the abattoirs is also important, so they all know each other and there's no fighting amongst the mob.
"MSA figures show how stress in cattle has a direct correlation with pH levels. If you've got cattle that want to run or spook easily, the pH levels go up very quickly, and that can make for tough beef."
Richard won the 2019 MSA Excellence in Eating Quality Most Outstanding Beef Producer Award for Victoria for Band 2 producers, having achieved 97.8% MSA compliance and an average MSA Index of 64.12.
Richard said while stress has a big influence on beef eating quality, it's just one part of the story that contributes to producing a high quality, natural, grassfed beef product.
"For a finishing business, it's critical to start with the right animal. I deal directly with producers with strong breeding programs, so I know I'm going to turn off a guaranteed product at the end of the day," Richard said.
"I purchase pure-bred Angus cattle between 9-12 months old and grow them out on until they are finished.
"Producing a quality article that meets compliance does revolve around certain genetics and breeds."
Nutrition also plays a part in turning off high quality beef for the pasture-fed program run by JBS.
"We're 100% pasture-based growing perennial ryegrass and clover-based pastures and we run a very simple system, turning off around 150 trade steers each year. It's about matching the head count to the pasture we have available, depending on the season," Richard said.
"We move the stock around in a rotational grazing fashion to get optimum growth out of the pastures and give the grass a spell between grazings. We ensure the fertility of the soil through additional fertiliser applications throughout the year and we stay on top of our weeds as well."
Richard said MSA is a great reference tool and he advises other producers to "get on board".
"MSA is well worth the effort. The rewards are there financially and there are lots of incentives by abattoirs to meet compliance. You are getting more money in your back pocket at the end of the day," Richard said.
Categories: Animal welfare