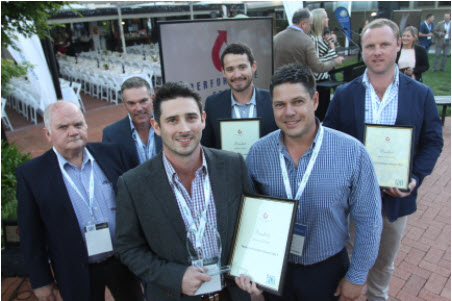 Theme: People & the community
Priority: Build workforce capacity
Manager: Thomas Green
Location: Tintinara, SA
"Awarding young leaders in our industry is important to ensure we recognise their achievements, as well as foster their leadership skills and capabilities for the future."
KEY POINTS
Thomas Green manages Thomas Foods International's 17,500-head Iranda Beef feedlot
Thomas helped develop the Food Connect educational program
Thomas won ALFA's Young Lot Feeder of the Year.
Thomas Green loves agriculture, particularly beef production, and has led the creation of a program to teach children about the industry.
Thomas manages Thomas Foods International's 17,500-head Iranda Beef feedlot at Tintinara, South Australia.
He, with the help of the team at Iranda Beef, Natural Resources SA Murray-Darling Basin (NRM) and Tintinara Area School, developed Food Connect. It's a 10-week pilot program designed to expose primary school children aged 5 to 7 to intensive agriculture – including the Iranda Beef feedlot, Mt Boothby Pastoral Company and Hoop's Honey.
Thomas said teaching young children was a great way to give back to the community, but also address what he sees as a significant gap in the school curriculum.
He said agriculture isn't on the Australian school curriculum, and it is only offered as an elective subject at some secondary schools.
Food Connect involves field trips, school visits and learning resources. Thomas said NRM was putting together a Case Study so the program can be replicated in other regions. Iranda Beef and the other businesses plan to take the Food Connect program to urban schools in 2018.
The Australian Lot Feeders Association (ALFA) awarded Thomas the Young Lot Feeder of the Year in recognition of his efforts.
ALFA's President Tess Herbert said the award program encourages dedicated employees to contribute their ideas and vision for lot feeding at a national level.
"We seek and foster qualities that empower participants to think outside the square, to be bold in their ideas and continuously develop and challenge their thinking about the Australian lot feeding industry and its future potential," Tess said.
She said the judging panel also considered candidates' understanding of industry issues, with the ability and willingness to contribute solutions.
"In alignment with the Meat Industry Strategic Plan (MISP) ALFA is dedicated to building industry capacity and capability," Tess said.
"The Young Lot Feeder Award program offers capacity building in itself, and the Award winner is provided with the opportunity to attend the Australian Rural Leadership Foundation's (ARLF) TRAIL program for emerging leaders.
"Awarding young leaders in our industry is important to ensure we recognise their achievements, as well as foster their leadership skills and capabilities for the future."
*Photo kindly supplied by Beef Central
Categories: People & the community