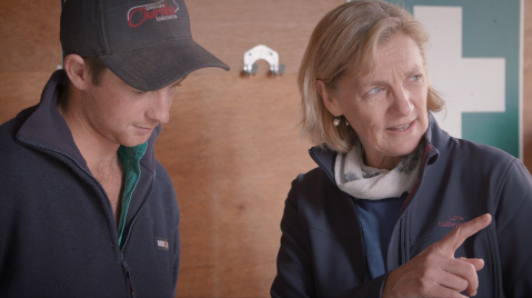 Theme: People and the community
Priority: Health and safety of people in industry
Business: Palgrove
Location: Stanthorpe, QLD
KEY POINTS
Charolais and Ultrablack breeder Palgrove has teamed with OBE Organic and Olive Learning to produce an online safety induction designed for livestock workers
The Online Rural Property Induction covers key hazards of working with livestock and aims to promote compliance and a best-practice safety culture to mitigate risk of personal injury
In Australia, agriculture has the highest fatality rate and incidence of serious injury of any industry. In 2017, family-owned, semi-corporate cattle business Palgrove worked with beef marketing company OBE Organic and specialist training organisation Olive Learning to address the need for improved safety protocols and understanding by creating an online induction course, the Online Rural Property Induction, for new livestock staff.
For 40 years, Palgrove has followed a tradition of innovation. The company pioneered the development of Charolais cattle breed in Australia and, more recently, the introduction of the Ultrablack breed.
Originally developed exclusively for Palgrove properties in 2017, Olive Learning has since adapted the induction course to suit a breadth of farms and rural properties across Australia. The course covers industry-wide safety standards and the risks that inform these standards, including hazards when working with livestock, use of machinery and bikes, fatigue, dehydration and handling of chemicals.
The principles of Palgrove's digital training initiative align with a key Australian Beef Sustainability Framework Priority Area: health and safety of people in industry. The Framework seeks to foster innovative ideas, like Palgrove's, that promote the wellbeing and safety of all workers in the beef industry, to minimise incidences of on-farm injury or fatality.
The Online Rural Property Induction has been peer reviewed to ensure its applicability to the broader industry, with content updated annually to ensure ongoing relevance to Australian farm workers.
Prue Bondfield, Palgrove General Manager, said the company reassessed its induction processes 18 months ago in a bid to synchronise its procedures across its QLD and NSW locations.
"At any one time, we can be assured that our managers provide the same level of training to new staff at each of our locations. We rely on our property managers to make sure inductions are completed properly, so the online course ensures that every new staff member has access to the same information. We looked at the horticultural industry and how they train their workforce and found that visual education overcame issues such as language, so adapted this to solve our multi-location challenges," Prue said.
"We thought a simple video could be used as a baseline, so that all staff learn basic standard safety practices . We worked with Olive Learning, to create our online course, which includes a 10-minute questionnaire, which then provided staff with a certificate from the 'Palgrove Academy'.
"In addition, we've got a whole toolbox of information and policies that sits above the induction and is used to inform anyone from head office to station hands."
Palgrove's digital product is continually being improved with new modules and specialisations. Prue is currently working on new add-ons so that more of the company's safety program can be introduced visually.
"We've been really involved in trying to find out more from organisations and government, such as the QLD government and Farm Safe. We were keen to learn 'what can go wrong' and hopefully prevent incidents rather than just accept that they are just part of working in our industry. As we expand the business, you can lose that connect with the employees. What we're trying to do is develop a culture of safety, rather than just compliance. In other words, when you work at Palgrove, this is how we do things."
The Online Rural Property Induction is now a commercially available and much sought-after educational tool for workers embarking on careers in livestock.
"[The induction course is] only about working with beef cattle. It is now available to any employer and it's a low-cost way to make sure that every employee on your property has had the same introduction to on farm safety. It's available through AgForce or directly through Olive Learning. [The Academy] also provides an official record of staff completion of the course."
Prue said there has been a noticeable shift in attitude to safety since the introduction of the online course, which has helped workers to understand that both employers and staff have a role to play in farm safety.
Palgrove's online safety induction course is a simple example of the industry-led pursuit of improved health and safety outcomes for on-farm employees, a key priority area of the Framework.
Categories: People & the community